Laura Lee presented a great workshop for people interested in learning about their family's past–and and she did it all for free! She came with great re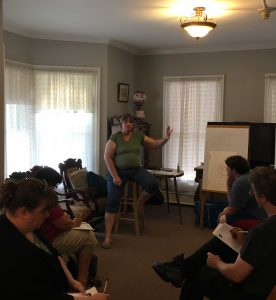 sources to share with attendees, and a level of knowledge that impressed Shannon (even though Shannon only had time to pop in and out o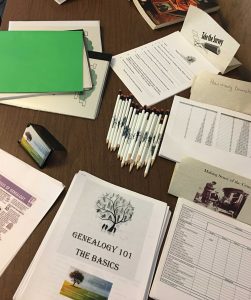 f the room briefly!).  She talked about how to start your search, genealogical research scams and pitfalls, and gave some information on some of the hurdles in history (like the Orphan Trains) that people encounter in their quest to dig into their roots.
In fall Laura Lee hopes to come back to Harris Memorial Library to present about the emerging information DNA research can add to a person's genealogical research. If you have any questions about your family's past, or how to better research your family members' histories and mysteries–you'll definitely want to check out Laura Lee's upcoming workshop.
If you'd like to reach out to Laura Lee with a question (or maybe you need a family tree done but don't have the time) you can stop by the library for a card with her contact information.