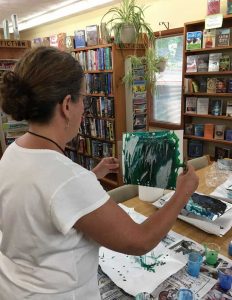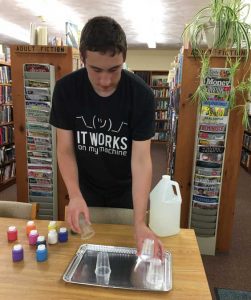 In 2019 72 mini-grants were awarded throughout the United States by the Ezra Jack Keats Foundation. Harris Memorial Library was fortunate to win one and immediately started getting things together to creatively empower participants in the creation of their own handmade book. Many books by Ezra Jack Keats were read to stimulate thought and conversation about artistic styles, process, and voice, and to help build empathy by exploring our differences.
Volunteers made a world of difference (as they always do) although Shannon didn't manage to catch photos of all of them in action.
Children from the community from age eight to fifteen participated, some in family groups, some as part of the Unatego Summer Program (hats off to Carrie Hewlett for all her hard work!).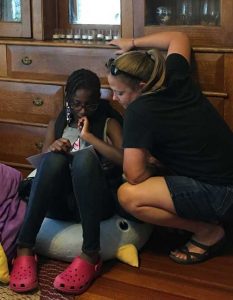 Children had books read to them and then engaged in creative activities including Acrylic Pouring/Paint Pouring, Character Design, Storyboard Creation, Matching Colors to Mood, and finally constructing their own book. There were many moments that children were deep in thought, considering their options–which was wonderful because art and literature are highly subjective things.
As a published author herself, and an award-winning artist, Shannon was very excited to see so much artistic and creative ability in the program's participants. The project was capped off with an exhibit of the children's work which was open to the public.
A few samples of work children did are included below, along with photos of the participants in different stages of the program. Thank you to all our amazing volunteers and very talented participants–keep creating–your voices matter!