Kathy Knox is at it again, bringing a charming design (perfect for the coming spring and summer) for curious painters (and sippers).
Butterflies and Blossoms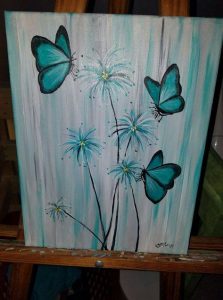 is a great opportunity for even the timid painter! If you've ever wanted to try a paint and sip, or if you just need an excuse to relax and take a break from the daily grind, here's your opportunity. You deserve to spend an afternoon indulging in the arts (and tasty beverages).
This library fundraiser is only $35 and sends you home with an acrylic painting you made yourself.