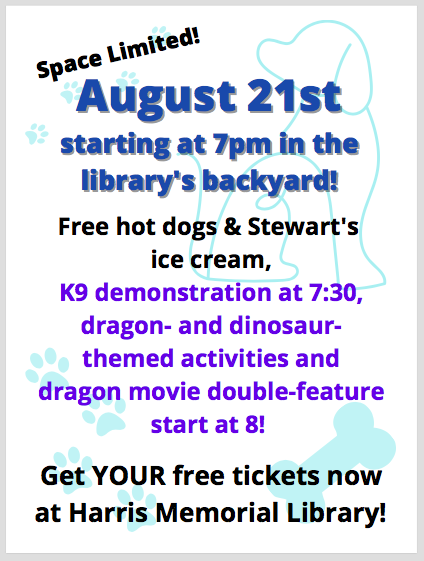 Free hot dogs (thanks to Stewart's), and free ice cream (thanks to Stewart's) starting at 7–come hungry!
We're also grateful to have a free demonstration of a K9 unit (thanks to our amazing NY State Troopers)–if you want to know more about what it takes to be a police officer or state trooper, come and meet Trooper Jones and his furry partner, Semy! They'll start their talk and demonstration at 7:30pm.
When they're finished, you can meet Semy and then do some dinosaur- and dragon-themed activities while we wait for it to get dark enough to start the movies.
We'll be watching RAYA AND THE LAST DRAGON and then HOW TO TRAIN YOUR DRAGON. It's going to be a great night and a wonderful way to wrap up a summer filled with reading and learning and doing fun things related to our "Tails and Tales" animal theme!
Come get your free tickets now at the library!